PC/Computer cases come in many varieties, nowadays ranging from the simple box-like to the side glass panel ones. So today, we will be covering the best open-air pc cases to buy in 2020.
The open-air cases have also jumped in the market. The reason why many people love these pc cases is that they have excellent airflow, and it suits best for those who are replacing their computer components more often like reviewers.
So let's get started with the best options available if you are looking to buy a PC case with the best airflow.
Best value for money and airflow air case: Thermaltake P3($140)
The Thermaltake core p3 is the best value for money option on our list due to its good features. It has dual way PSU and GPU mount options. Along with the 3-way case placements(wall mountable, horizontal laying and vertical; standing).It Supports 2x USB 3.0, 2x USB 3.0 ports with HD Audio ports.
The Thermaltake p3 comes with DM(Dismantlable modular) design that allows excellent modding capabilities. It has modular panels, acks, rackets and, mounting arrays.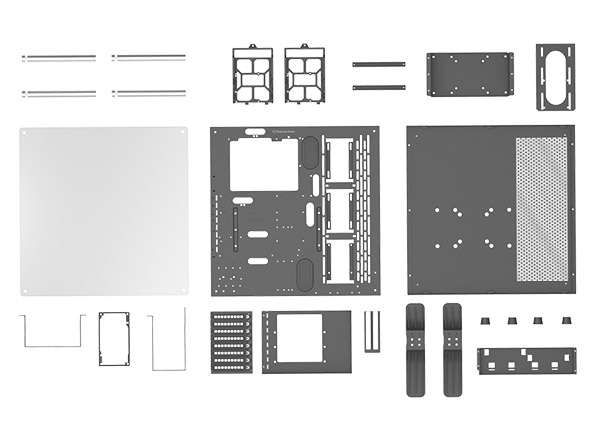 The Thermaltake p3 has an excellent panoramic view design that allows you to show your pc components in a very remarkable way. It has a mounting array that will enable you to put 120mm fans up to 4 or a radiator. The hidden drive trays allow you to mount 2.5″ or 3.5″ storage devices with 45 mm of cable management space to hide the cable properly.
Reasons to buy:
Versatile PSU and GPU orientation
Native AIO Support
Supreme Hardware support
Supports Radiators of various sizes
Best open air pc case for test bench: In Win X-Frame 2.0
The In Winx X-frame 2.0 has an aluminum frame with a 360 rotation design, which makes this open-air case the best option for the people who are mostly doing the test benches.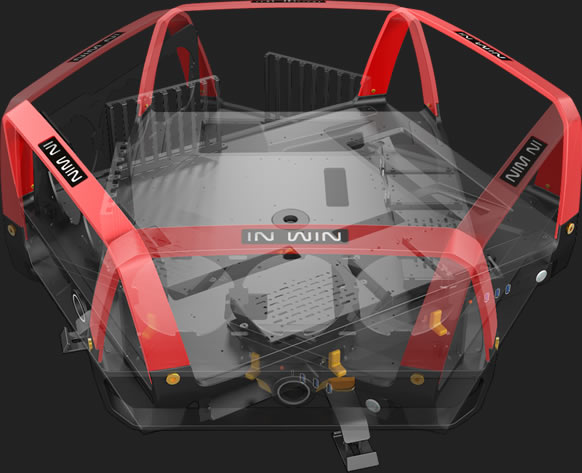 The Winx X-frame 2.0 has a separate detachable stand that makes the case to be 360 rotated vertically or be mounted horizontally. It has a quick-release storage device and water pump bracket that allows for quick removal or attachment of pc components.
The Winx X-frame 2.0 also features the new Type-c USB 3.1 for faster transfer rates with a wide range of motherboard types support, which gives this case another reason to be best for the test benches. This open-air case has two aluminum handles of 8mm thickness that allows smooth movement of your pc.
It can fit a 360 mm radiator along with three fans of 120mm.In Win also has designed a 1065-watts PSU for this specific case.
Reasons to buy:
It has 3 x USB 3.0,1 x USB 3.1 Type-C,HD Audio
It has E-ATX, ATX, Micro-ATX, Mini-ITX motherboards compatibility
Frame 2.0 comes in three color varieties RGB
SEE ALSO: How to Install Call of Duty Mobile on Mac and Windows PC
Most affordable open-air pc case: Thermaltake core P1($120)
The Thermaltake p1 is the cheapest open-air case option available in the market. But due to its budget limit, it only supports the mini itx motherboard, which according to me, does not make this case a deal-breaker; instead, due to it's less space design, it gives you a reason to buy this case.
Thermaltake p1 also has a 5mm thick tempered glass window. This case all of the features that we previously saw above in the Thermaltake p3.
In the end, it can be concluded that this is just the more affordable band smaller version of the Thermaltake p3.
Reasons to buy:
suitable for mini itx motherboard
Most affordable open-air case
SEE ALSO: Download PUBG (Playerunknown's Battlegrounds) and Play on PC Free and Paid
The Most Premium and Unique case design: Cougar Conqueror ($279.99)
The Cougar's open-air case has an extraordinary design that is unique in the open-air market, which makes it best for the gamers and pc enthusiasts that want an open-air pc case and also want to show off their pc components and lights.
The Cougar Conqueror has a mid-tower form factor with Mini ITX/ MicroATX/ATX motherboard support.
This pc case has an aluminum frame, which makes this case stronger and lightweight as compared to others in the competition. For the best internal component visibility, this case has two side panels of 5-mm tempered glass.
To make this pc case have the best airflow cougar has done some excellent job by putting a 360mm radiator at the top and 240 mm radiator at the front, which allows superior liquid cooling to be carried out.
For the pc modders, cougar has designed this open-air pc case in a modular way, which eliminates the need to cut down the metal for modding.
Reasons to buy:
Most durable
It has extreme cooling performance
Ideal for modders
It has 3 x 3.5″ Drive Bay, 4 x 2.5″ Drive Bay
The front panel has USB3.0 x 2, Mic x 1 , Audio x 1
If you know of any PC case that's worth mentioning here or have any query do share it in the comment section below.