Looking for solutions to your Xbox One Mic malfunction? Well, you are at the right place!
Xboxs' most used feature is voice communication that allows gamers to chat with friends using a microphone. Unfortunately, gamers may face an annoying issue where they can listen to the game sounds, but can't communicate with the other players.

Xbox One Mic Problem may appear as distorted audio, limited audio, or muted audio. This prevents the games to function properly that depend on voice communication.
SEE ALSO: Best Mic for Streaming in 2020 under $200
Causes of Mic Not Working on Xbox One
Physical damage to the microphone.
An App software glitch.
Incorrect settings in the Xbox system.
Slow internet connection.
If you are facing this issue, don't panic! There is a solution to get your microphone back to work.
How to Fix Xbox One Mic Issues
Try these fixes to get your Xbox One mic working again!
Solution 1: Conduct basic checks on your controller and headset
Check if your headset is properly connected to your device.
Make sure your headset is not muted by checking the mute button on your headset control.
Make sure your team members haven't muted you.
SEE ALSO: How To Fix Discord Voice Chat Not Working
Solution 2: Power-cycling your Xbox
Shutting down a device completely and then turning it on again is referred to as power-cycling. Here's how you can power-cycle or reboot your Xbox when it's one microphone is not working. Also check the figure below.
Without removing the headphones, long-press the Xbox button on your controller to turn it off.
Press the Xbox button on Xbox One (~10 seconds) to shut it down. Now, take out the power cable of the Xbox One.
Leave the entire system off for approximately 5 minutes.
Turn on the system and check if the microphone is working or not.
Solution 3: Checking Xbox Profile Settings
The microphone may fail to work properly if you have not correctly set your Xbox communication settings. Some options exist in the settings that may lead to loss of voice communication. To check out if such settings are enabled or not, you need to follow a few steps.
Click on the Xbox button on your controller, select Settings, and tap on All Settings from the dropdown menu.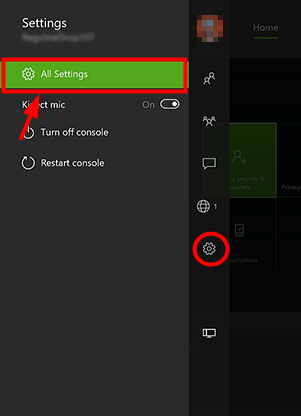 2. Tap on Account and then click Privacy and Online Safety.

3. Click on Adult defaults and select View details and customize.

4. Tap the Communicate with voice and text option, check if you have everyone checked as an option.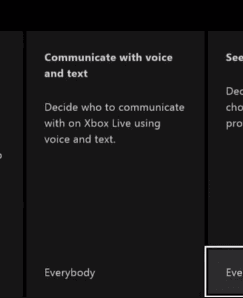 5. After making any necessary changes, if required, perform solution 2. Now verify your voice communication again.
Solution 4: Update the Xbox Controller
The Xbox One controllers use firmware that needs to be updated occasionally. You can update your Xbox One controller in the console's device settings and check if the microphone problem has been resolved.
Solution 5: Checking Headphones on another Device
If all the above methods fail, it may be possible that the problem is not hardware-related. To confirm this, you have to plug the controller into another Xbox device and check if the microphone works properly or not. If it works, plug it back into your device and see if you have missed any of the above-mentioned steps. Most of the time, the problem resides in some hidden settings in your device system.