Did you know? 98% of the careless Android Folks are just too lazy or too busy to hit the Download Updates option on those pop-up notifications that have been ringing for days.
Why you can't ignore the latest updates
You don't want to be one of them, do you? You don't seem stupid enough to let go of all such features that I've been packed into the latest realme Android 11 UI 2.0. Mustn't ignore the improved System Cloner, Quick Return Bubble, Enhanced Dark Mode, New App Drawer, Third-party Icon Support, Redesigned Notification Panel, Revamped Always-On display, Improved Game Space, and much more.
Realme: The way we update!!!
With no fixed update frequency cycle, poking around the settings for the latest firmware installation seems tiring for a realme geek.
Featuring a staged rollout, new updates are passes out randomly to a limited number of users. The broader rollout is pushed out once the company is assured that the ongoing release carries no bugs.
How to Update realme X7 Max Software
If your device isn't popping OTA update notifications, you may need to reach out for a manual firmware upgrade tutorial.
A. OTA Update Procedure
Get connected to the web by WIFI or Mobile Network. Take a deep breath and wait for the system to pop out a system update notification. If nothing pops out, head to Settings -> Software Updates Either it will ask you to Download the Latest Firmware upgrade or bash you with the customary message "It is already the latest version."
Download Firmware. It's advised to download over WIFI to save your Mobile data.
Once installation ends, the device reboots afterward and installs new Firmware into the system.
SEE ALSO: Realme X7 Max tips, tricks, and features
B. Recovery Update
What if the phone freezes at the realme logo and cannot reboot but can enter Recovery Mode when prompted by the user himself?
It's time we should hit one of the two Recovery Update Procedures!!!
1. Update With SD card(Lose all Data)
To do it
Go through realme.com -> Support -> Software Updates and download firmware to the root directory (top-most directory of any file system) of your SD card.
After inserting Firmware loaded SD card into the phone, power it off
Enter recovery mode by holding Power and Volume Down buttons for a moment
After entering Recovery Mode, go for [Install from storage device] > [Install from SD] > [Update Package] > tap [Yes] on confirmation screen
Device reboots and installs update package afterward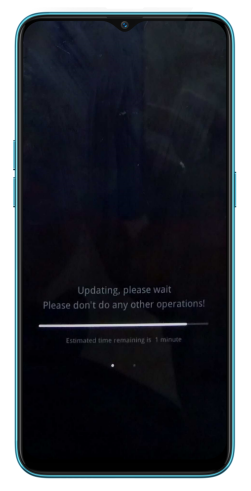 – Drawbacks:
Updating the device with custom ROMS (SD card) might cause data loss. So, you should back up your data frequently to avoid data loss in case of any incident.
– How to Backup Files before doing Recovery Update(Loose Data)
Set the data to be backed up in some directory of your storage [Settings] > [Other Settings] > [Backup and Recovery] > [New Backup]
Locally existing backup files get wiped out in case of updating from custom ROM (SD card), so move backup files to external storage via data cable.
For recovering data in updated phone, go to [Settings] > [Other Settings] > [Backup and Recovery] > [Start Recovery]
2. Online Update(Keep Data)
– Drawbacks:
Applicable for ColorOS 5.2 and above. Fortunately, that's a YES for realme X7 users.
Enter Recovery Mode by pressing and holding Power and Volume Down buttons
In Recovery Mode, hit Online Update (keep data) with WIFI connected
Wait for the download, reboot, and installation. It might take a few minutes.
C. Ask for the assistance of local realme Service Center
If you're too busy or too confused to do it yourself, ask assistance from a professional maintenance engineer at the local Realme Service Center. You may need your phone's invoice and warranty card. Find the nearest service center on the official website.
realme.com > Support > Service Center
– Precautions During Update
Keep your device plugged in, or keep the battery level over 40%
Do not Root your device; otherwise, the warranty gets terminated instantaneously.
Do not power off your device during the update
– Updates: The benefits they provide
1.Developing system stability
2.Improving compatibility with third-party apps
3.Enhancing system performance
4.Optimizing battery life
It's so good you folks are now kicking your flagship phone with the latest software out there. Still, countering any hurdle? Comment down to let us know!!!